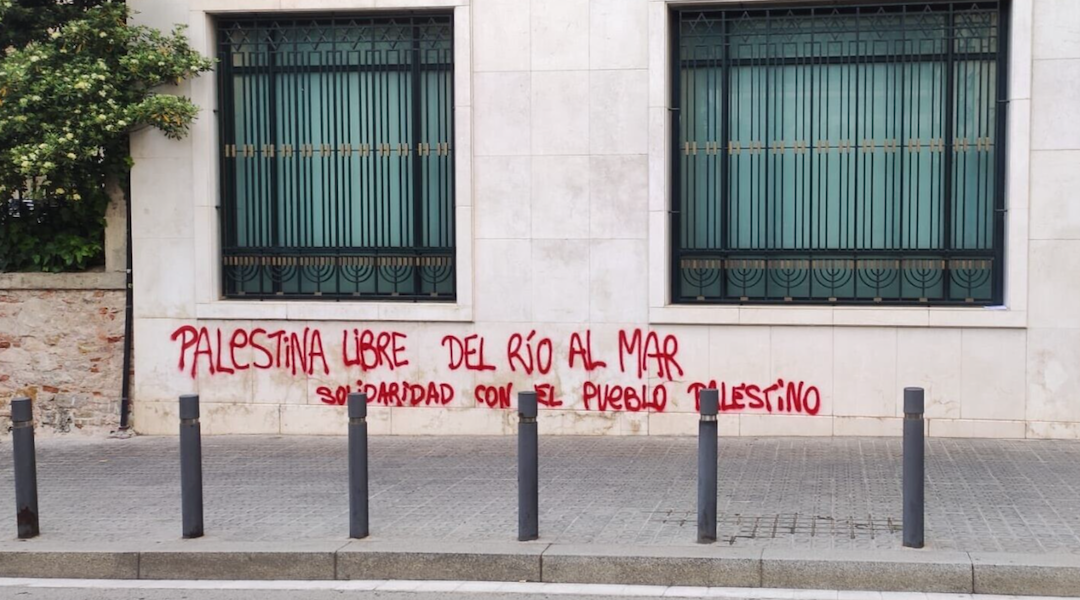 (JTA) — The Great Synagogue of Barcelona was hit with anti-Israel graffiti ahead of Yom Hashoah, or Israel's Holocaust remembrance day.
The graffiti found on Monday read: "Free Palestine from the river to the sea. Solidarity with the Palestinian people." Vandals also left letters nearby that said Israel commits "genocide against the Palestinian people" and criticized "Catalan elites" for supporting Israel.
Jewish groups around the world criticized the graffiti and said the fact that pro-Palestinian activists targeted a synagogue shows that anti-Zionism is antisemitic, a contention that is disputed.
"Outrageous! We utterly condemn the antisemitic graffiti on the facade of Barcelona's synagogue," the European Jewish Congress tweeted. "This graffiti is yet more evidence that anti-Zionism is antisemitism."
Pinchas Goldschmidt, the head of the Conference of European Rabbis, connected the graffiti to Barcelona Mayor Ada Colau's decision in February to give up its twin city designation with Tel Aviv — an act he argued has "put the city's Jewish community in real danger."
"Every additional case of vandalism and bloodshed as a result of this unfortunate choice will be on her hands," said Goldschmidt, the former chief rabbi of Moscow who fled Russia after its invasion of Ukraine, in a statement.
Colau had said that Israel is guilty of "apartheid," as well as "flagrant and systematic violation of human rights." The Barcelona-Tel Aviv twin city relationship had begun in 1998.
Madrid Mayor José Luís Martínez-Almeida offered to twin his city with Tel Aviv the day after Colau's announcement.
Some see the phrase "from the river to the sea" as a call to violence for Palestinians. The slogan was coined by the Palestine Liberation Organization beginning with its founding in 1964, claiming a Palestinian state between the Jordan River and the Mediterranean Sea and rejecting control by Israel of any land in the region, including areas controlled by Israel prior to 1967. It later became a popular political slogan used by Palestinians who reject compromise with Israel, including the terror group Hamas, which calls for the destruction of Israel.
Israel observed Yom Hashoah from Monday evening through Tuesday evening.
This article originally appeared on JTA.org.
The post Barcelona synagogue defaced with anti-Israel graffiti appeared first on The Forward.