Welcome to the California Briefing, the weekly dispatch of California Jewish news from the Forward's Louis Keene. In this edition: My favorite 2023 article (so far), the good kind of A.I., and a Jewish child star gets hitched.


To get the latest on pop culture, politics and Jewish life in the Golden State in your inbox every Thursday, subscribe here: forward.com/california.
The school has a cross. Its point guard wears a yarmulke.
One of those stories that ends up inspiring the writer. Photo by Jon Putman for the Forward
For the last few weeks, I've had the pleasure of following 20-year-old Ze'ev Remer, an Orthodox student-athlete at California Lutheran University, a nonsectarian Division III school in Thousand Oaks. My story about his experience went live on the Forward website today, accompanied by gorgeous pictures taken by a local photographer.
Not that going to Yeshiva University, whose basketball team famously rattled off 50 straight wins, is suddenly passé. But Remer chose a school that has next to zero Jewish people — it doesn't even have a campus Chabad. I wanted to know why. And I wanted to know how it's going.
I think you'll like it, even if you don't like sports.
What we're watching and not watching
🤖  There's been a lot of hand-wringing about artificial intelligence lately. But a software engineer named Daniel Patt is using AI to identify Holocaust victims and survivors in archived museum photographs. One of the photos was a match for actor Josh Gad's great-grandmother. Patt, Gad (of Frozen fame) and Gad's mother, Susan Greenblatt, shared the story on The View.
📺  My colleague PJ Grisar calls Getting Away With Murder(s), a new documentary about the failure to prosecute 99% of the war criminals who perpetrated the Holocaust, "a fiery indictment of a world that lost interest in justice." It's now free to stream on Roku and Peacock. 
🎙  ESPN's Jeremy Schaap caught up with Meyers Leonard, the NBA player who hasn't played since he was recorded using an antisemitic slur in March 2021, for a report on Outside The Lines. Leonard seems genuinely remorseful — compared to Kyrie Irving, it's night and day. The OTL clip is about seven minutes long, but if you have more time, Schaap's interview on the ESPN Daily podcast is even better.
🥶  And while I'm aware I already dissed it last week, I've been validated by a couple of internet takedowns of You People, the new Netflix comedy about a Black-Jewish relationship starring Jonah Hill and Lauren London. J. Weekly said it was "an unfunny step back for Black-Jewish relations." Our very own Mira Fox straight up called it "offensive."
What we're reading (or at least bookmarking)
Kate Berlant must have gotten tired of stealing every scene she acted in, because now she has a solo show. Photo by Leon Bennett/Getty Images
👩‍🦰  One breakout star at Sundance was Aleeza Chanowitz, who showed her Israeli TV series Chanshi, about an Orthodox young woman who moves from Brooklyn to Israel and discovers her sexuality. (American Jews have a name for this rite of passage: the gap year.)
🙅‍♂️  Your weekend longread: the LA Times' Leila Miller has a character-driven story on one man's international effort to rescue his family from Lev Tahor, the Jewish cult that won't die.
⛳️  GOLF magazine's February cover athlete is Burbank native and recent Farmers Insurance Open champion Max Homa, whose Twitter banter belies a competitive obsession and a screen-worthy career arc.
💁‍♀️ Actress and comedian (and Santa Monican) Kate Berlant (Sorry to Bother You, Don't Worry Darling) recently embarked on an encore run of her one-woman show in New York. She told The New Yorker why she doesn't write her standup — and why she dropped out of Hebrew school.
🚐  Also: Grown-up child star Abigail Breslin (Little Miss Sunshine) got hitched and the huppah pics are really cute. Meanwhile, I can't stop laughing at the astounding pretentiousness of former mayor Eric Garcetti's official portrait.
Your humble correspondents
🤔  One more story from me this week: After Alec Baldwin was charged with involuntary manslaughter on Tuesday, I blogged about the strange Jewish laws surrounding accidental killing.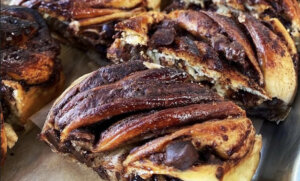 Yes. That's the caption. Yes. Photo by Dafna Adler via J. Weekly
Finally, in the we-are-so-lucky-to-live-in-California-department…
I'm happy to report that we have babka in Napa. That is all.
The post California Briefing: A Lutheran college's frum point guard, Talmudic help for Alec Baldwin, and a dank Bay Area babka appeared first on The Forward.