"It's unlike anything I've ever done before," Danny Burstein told me. "It's not only about a family — a Jewish family that moves from Brooklyn to L.A. It's also about the creation of a piece of art."
Burstein was talking about the new Broadway play Pictures From Home, in which he portrays the real-life Brooklyn-born Jewish photographer Larry Sultan, who starting in the early 1980s spent a decade photographing and interviewing his aging parents at their California home.
The result was a highly influential 1992 book of the same title that used the photographs and interviews, as well as stills from childhood home movies, to create a compelling portrait of the pluses and minuses of American family life. The play spans Sultan's creative years with his parents, and beyond. 
"The thing that inspires me as far as being an actor is to try to be different every single time," Burstein said, speaking over the phone from his Manhattan home. "And this was completely different."
"Sometimes art is beautiful. And sometimes it's messy. And sometimes it's quiet and sometimes it's volatile. And the play captures all those things. And it's in a most unusual way."
Burstein, 58, is co-starring in the play with Nathan Lane as his father, a traveling salesman who became a vice president of the Schick Safety Razor Company, and Zoë Wanamaker as his mother, a successful seller of real estate. The family moved to California in 1948, when Sultan was 2; he died in 2009 at age 63.  The book has been adapted for the stage by Sharr White; the director is Bartlett Sher.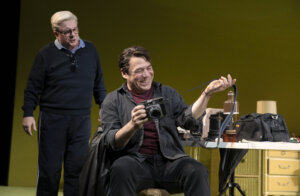 Nathan Lane and Danny Burstein as Irving and Larry Sultan. Photo by Julieta Cervantes
Over the course of the play, Sultan gets to know his parents in a deeper way," Burstein said.
"He loved them desperately and wanted to get to know them better. And wanted to get to know them on their terms. He wanted to see them at their deepest. He wanted to reveal the intimacy of their relationship, their truest thoughts. And that could be difficult. He was there all the time, and so what happened was he got it all — the veneer of regular life and then the depth, the messiness, the arguments. And the silliness of life."
"They reveal themselves — their triumphs and their foibles. It's a simple story but a very profound one, and very beautiful."
In the last 31 years, Burstein has performed in 19 Broadway shows, beginning in January 1992, when he played both a porter and a constable in a farce called A Little Hotel on the Side, which The New York Times called "a complete flop."
In 2016, he was a Tony-nominated as Tevye in a revival of Fiddler on the Roof. Most recently, he won the 2020 Tony Award as best featured actor for Moulin Rouge: The Musical. His total to date: seven Tony nominations, including his one victory.
Burstein said he prepared for the role of Sultan by studying hours of interview tapes. "I know he was methodical. I know he was kind. I know he was funny. I took as much of him as I could and put him into the show," Burstein said. "I try to honor his legacy as much as possible. I thought he was a brilliant artist who captured the world, sometimes in one photograph, captured in great depth in a photograph. His legacy is looking for different truths in a single photograph.
"His father would say, that's a picture of whatever — your mom. And he would say, yes, but can you see, she looks like this, and there's a depth to it, and the background is this. 
"He marveled at all the, in his words, different truths that could be found in a single picture."
Early in the play, Sultan's father talks about the antisemitism he encountered working for a clothing store in mid-1940s Manhattan.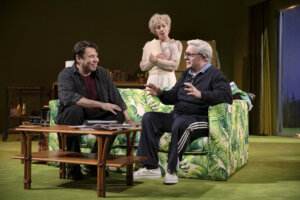 Danny Burstein, Zoe Wanamaker and Nathan Lane in Pictures From Home. Image by
"That's one of the first moments in the play, as I'm interviewing them,  where they are relaxed and reminiscing about their pasts," Burstein said. "They are each talking into a tape recorder and telling me about their lives and how they got to California, how difficult it was for them. The father, Irving, worked near Radio City, and it was an English clothing store, and he had to change his name to John Sutton as opposed to Irving Sultan because John Sutton could pass. And he was disgusted at the way people spoke about Jews at the time freely because they didn't know that he was one. And he says he wanted to punch them in the mouth.
"But there was a greater good. He had a wife and two kids. He had to take care of them. That's what was paramount at the moment. And it reminds me of so many Jews and other people of different ethnicities who have to sometimes swallow it because there is something greater that has to go on. They know they have to pay their bills. But at the same time you see the effect it has on them. And it cuts deep."
Burstein grew up in New York City. His parents split up when he was 2 months old. "My biological father is Jewish and my stepfather is Jewish," he told me. "My mother was raised Catholic in Costa Rica but she is actually Sephardic — her relatives came from Spain. We're more cultural [Jews] than anything, and I'm proud of what Jews stand for."
"And I always think about the play as being very Talmudic. Because Larry Sultan is actually someone who's just asking question after question and trying to find answers for these very deep questions about life, about what is important in life."  
Late in the play, the photographer must confront the increasingly imminent mortality of his aging parents. Sultan, Burstein said,  "wants to hold on to them forever."
In the last three years, Burstein himself has twice experienced  the reality of human frailty. In December 2020, his wife of 20 years, the Broadway star Rebecca Luker, died tragically at age 59 of ALS. "There is a void," he wrote in an essay for The Hollywood Reporter. "Where once there was sunlight." Nine months earlier, in the first days of the COVID epidemic,  he was hospitalized with a severe case of the disease. Have his own experiences influenced how he approaches that scene?
"No matter who you are as an actor," he said, "you reach back for different emotions in your life that will help you understand the depth of what that character is going through at particular moments, whether they're happy ones or sad ones or angry ones. You relate those kinds of moments to those in your own life, to understand them, to approach them in an honest way. So of course there is some of that in there. But mostly I'm thinking that he's realizing that he will miss his parents very, very much and that I thankfully have both my parents still in my life.
"But it's also easy to pretend that I would be bereft if I lost either Zoë or Nathan, because I love them both so much."
"Or even just thinking about the time that we have now and the time passing. That is enough for me to imagine what I need to imagine, and the emotion just naturally comes."
And speaking of the passage of time, that is also very much what Pictures From Home is about. 
"What he learns is not only do his parents pass away, but that his time is finite as well," Burstein said. "There's a beautiful speech at the end of the play, after he all of a sudden is diagnosed with this rare form of cancer that is unclassifiable. And he can't help thinking 'Really? Now?'"
The post For a Broadway star, another memorable Jewish character — miles away from Tevye appeared first on The Forward.