(JTA) — On a couple of occasions in Julian Schlossberg's early life, he found himself in parts of the United States where some people he talked to had never met a Jewish person. The first was a stint in the Army, the second was while selling movies to rural television stations.
But over the next six decades — once Schlossberg embarked on a long and successful career that included stops as a Hollywood studio executive with Paramount Pictures and later as a prolific distributor of movies and producer of off-Broadway and Broadway shows — he was rarely the only Jew in the room ever again.
Schlossberg tells those stories and many more in his new memoir "Try Not to Hold It Against Me: A Producer's Life" (Beaufort Books). He writes about how he went from a child in the Bronx to an influential show business figure who mingled and worked with countless movie stars, having enjoyed a long career that shows no signs of being over at age 81. 
Schlossberg was born in 1941, and grew up in what he describes as a middle class family, in a Bronx neighborhood that at the time was heavily Jewish and Irish. His father Louis played semi-pro baseball, but as Schlossberg writes in the book, turned down the chance to play for a team in Kansas City in part because "there were almost no Jews in baseball." Instead, Louis spent most of his professional life working in Manhattan's Garment District. 
The family lived near the Kingsbridge Armory, then likely the largest of its kind in the world, which hosted conventions, car shows and rodeos that came through the city at the time. Those rodeos, in fact, were Schlossberg's introduction to showbiz. 
"I would go as a kid and just revel in the fact that I was meeting these incredible stars," he said.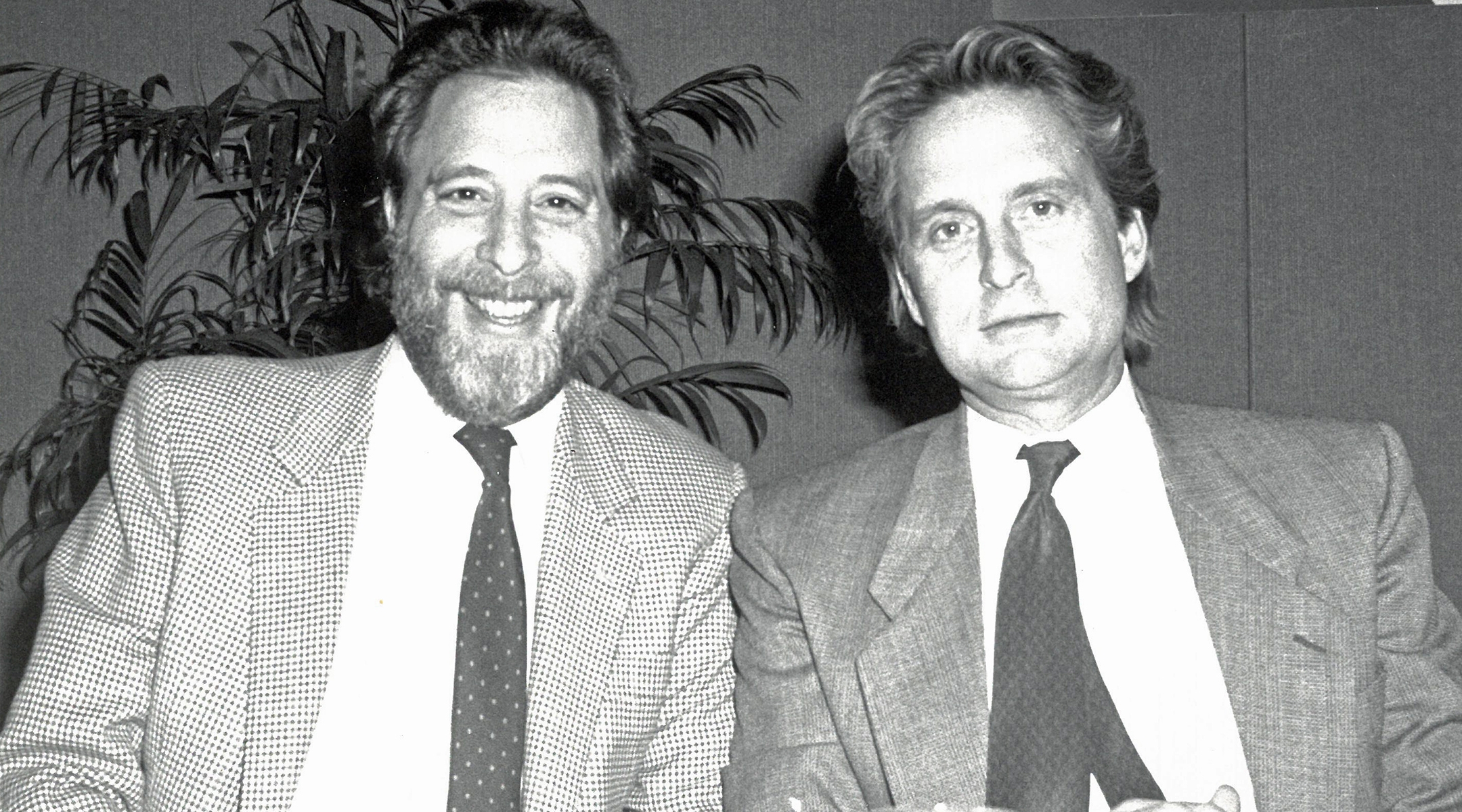 Schlossberg with Jewish star Michael Douglas. (Courtesy of Julian Schlossberg)
Image by
Meeting stars would eventually become commonplace. Before and after his time in the Army in the early 1960s, Schlossberg worked as a cab driver, a busboy, a waiter, a counselor, a typist and more while taking college classes at night. He got a job at the ABC in 1964 and worked his way up the company's ranks. 
"I had decided, as a very young man, that since I didn't have a law degree or a dental degree or a medical degree, I was going to learn every aspect of show business that I could," he said. "I didn't know what it was going to do, but I knew that knowledge was power, and that if I had knowledge, maybe I'd get some power." 
He would live out that goal, working in just about every area of entertainment, from radio to movie distribution to theater producing. (He goes back and forth on which one he likes best.) 
In the 1970s, he hosted an AM radio show called "Movie Talk," for which he interviewed hundreds of movie stars. WMCA station executives wanted Schlossberg to use a different stage name, to sound less Jewish.
"They didn't want it to be 'a Jewish name,' and I said 'Wait a second — if I'm going to be on the air in New York City, I can't be a Jew?' So they gave in, and I kept my name," he said. "You kind of want to remember the times you did stand up, I guess. Not that it was a giant standing up, but I would have not done the show if they had asked me to change my name, because it made no sense to me." 
Speaking of Jews, Schlossberg has worked with a virtual who's-who of famous Jewish entertainers over the years, from Neil Simon to Lillian Hellman to Sid Caesar to Mike Nichols to Peter Falk to Ethan Coen. And the ones he didn't work with, he hung out with socially. Barbra Streisand invited him to a famous birthday party (that ended up taking place at Liza Minnelli's house), and Mel Brooks has always greeted him as "Schloss Berg," as if his name were two words.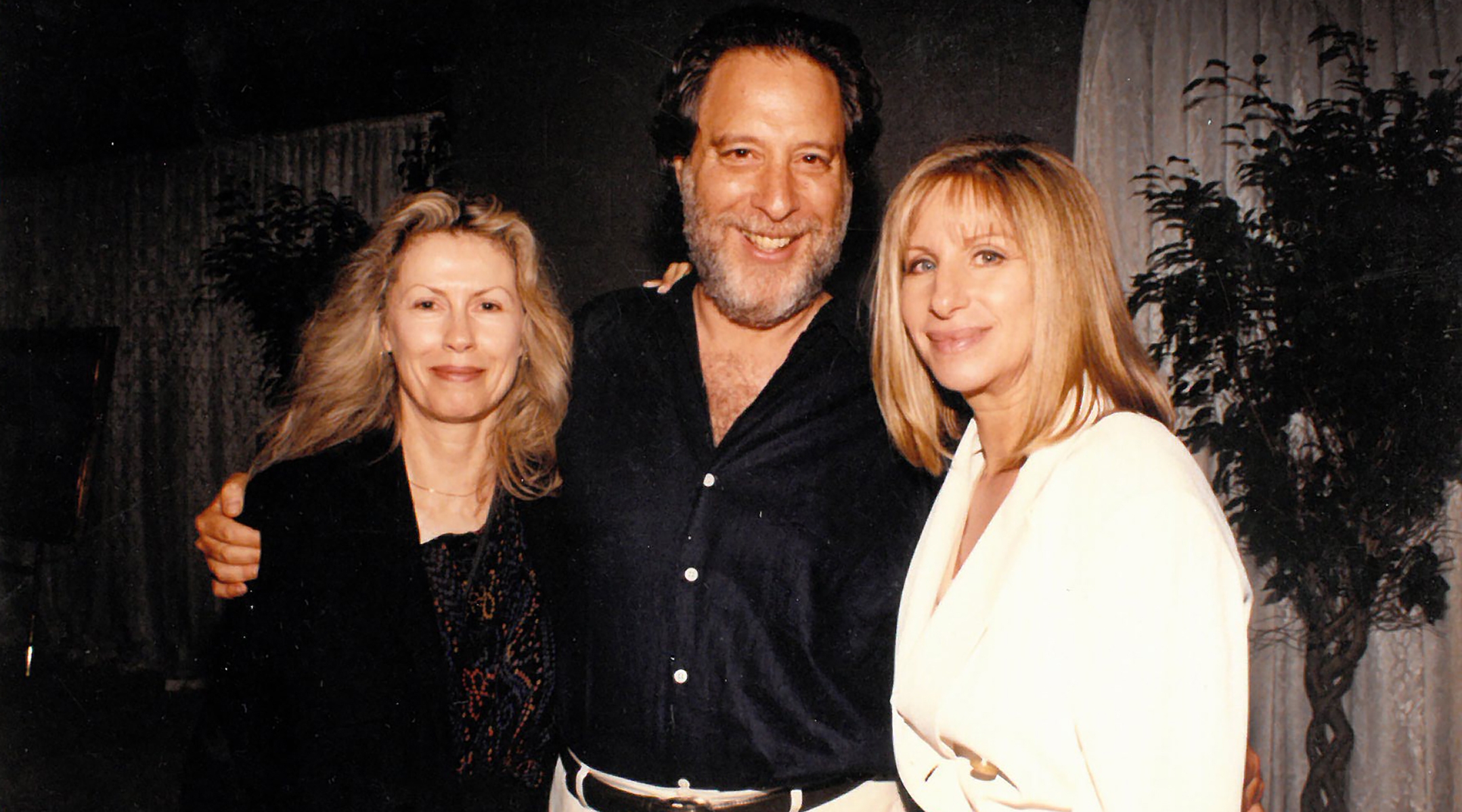 Schlossberg with Barbra Streisand, right, and Merryn Jose. (Courtesy of Julian Schlossberg)
Image by
Schlossberg's film production credits range from the 1994 British mystery "Widows' Peak," starring Natasha Richardson and Mia Farrow; to the 1980 "No Nukes" documentary that filmed an anti-nuclear weapons concert with the likes of Bruce Springsteen and Jackson Browne; to a revival of the long-buried version of Orson Welles' "Othello."
In 1995, Schlossberg worked with three prominent Jews on one off-Broadway production: a set of one-act plays performed together each night, called "Death Defying Acts," written by Woody Allen, David Mamet and Elaine May. Schlossberg later produced the Broadway adaptation of Allen's movie "Bullets Over Broadway," while May, whom Schlossberg likens to a sister, contributed the forward to his book. 
"Elaine is, as I've written, the smartest person I've ever met, and probably one of the most talented if not the most talented, because there is nothing that she cannot do," Schlossberg said of the now 90-year-old Oscar, Tony and Grammy winner. "She's a great actress, she's a great writer, and she's a great director. And she's a hell of a friend." 
At one point in his career, as he details in one chapter, Schlossberg crossed paths with another Jewish producer: Harvey Weinstein. When Weinstein was young, the now-disgraced serial sexual harasser approached Schlossberg and asked him to teach him the movie business. The two men worked together for a time, although eventually they fell out. 
"I never in my wildest dreams thought he would hit the heights that he hit, or the depths that he sunk to. Never," Schlossberg said. 
Another of Schlossberg's mentoring experiences ended on a more positive note. Mark S. Golub, a rabbi, came to Schlossberg for advice in the late 1990s on learning the theater business. Golub, who died late last month at 77, went on to become a prolific Broadway producer and the founding president of the Jewish Broadcasting Service channel.
It was a fruitful partnership: Golub learned about the industry, and Schlossberg absorbed lessons about Judaism.
"It was a very interesting combination, of somebody who certainly knew a great deal about Judaism, and myself, who was learning a lot by that time about [Judaism]," Schlossberg said. "It was interesting to me to be partners with a rabbi."
Schlossberg had several projects set to go at the start of the coronavirus pandemic, but when the industry shut down, he wrote his memoir instead. Now he's looking to rev up some of those projects. Next up on the docket is "Tales From the Guttenberg Bible," an autobiographical, four-character play written by and starring the Jewish actor Steve Guttenberg. It is now set for its world premiere in April, at the George Street Playhouse in Rutherford, New Jersey. 
"I think audiences will respond to it, because he's so kind and personable and living… a nice Jewish boy," Schlossberg said of Guttenberg.
This article originally appeared on JTA.org.
The post From Mel Brooks to Elaine May to Ethan Coen: Producer Julian Schlossberg writes memoir about working with Jewish stars over 6 decades appeared first on The Forward.