A few hours before their colleague was shot on Jan. 6, 2023, teachers at Richneck Elementary in Newport News, Va., warned administrators three times that a six-year-old black student with an "acute disability" was threatening his classmates with a gun.
The first time, an administrator dismissed the report, telling a concerned teacher the student couldn't be carrying a weapon because he had "little pockets." The second time, an administrator waved away threats made to another student. And the third, an administrator said to "wait the situation out because the school day was almost over," according to an attorney now representing Abigail Zwerner, the 25-year-old teacher who was later shot by her student.
The administrators—including Principal Briana Foster Newton and Assistant Principal Ebony Parker, who both left the school in the wake of the shooting—were obligated to take each of these threats seriously and report them to local law enforcement. But they never did.
Their inaction may have its roots in an Obama-era policy fostered in Virginia by former Democratic governor Terry McAuliffe. In 2014, the Obama Education Department threatened to launch civil rights investigations into districts that disproportionately disciplined black or disabled students, pressuring public schools to adopt many policies that reduced disciplinary measures.
According to Max Eden, an education research fellow at the American Enterprise Institute, the move meant that schools were deemed "successful" to the degree their administrators kept disciplinary levels down.
"It should be shocking that they would ignore those warnings," he said of the Richneck Elementary administrators. "But after a certain point, when you are judged on the basis of warnings like that not being recorded, not abiding by a measure that would lead to it being recorded actually makes perfect sense."
In Virginia, McAuliffe made it a "high priority" of his administration "to reduce student referrals to law enforcement, reduce suspensions and expulsions, [and] address the disparate impact these practices have on African Americans and students with disabilities," as part of his "Classrooms not Courtrooms" initiative.
He found support in groups like the Legal Aid Justice Center, which has unsuccessfully tried to remove police from schools in Virginia. The group also pushed state Democrats to reduce all racial disparities in school discipline, authoring many reports on the subject.  It did not respond to a request for comment.
From 2015 to 2020, Virginia Democrats wrote and passed a number of bills discouraging schools from disciplining students, which were signed into law by McAuliffe and his successor, former governor Ralph Northam (D.). These bills directed the Virginia Board of Education to find "alternatives to suspension and expulsion" and made it illegal to charge students with disorderly conduct. In 2020, Northam removed a requirement for education officials to inform law enforcement of all misdemeanor offenses that occurred on school grounds.
Sometime between 2019 and 2021, Newport News Public Schools added a provision to the "Mandatory Reporting" section of its handbook. Rather than alert law enforcement about "the illegal carrying of a firearm or a weapon onto school property," principals are now directed to refer threats up to a districtwide disciplinary office, which then has to "confirm that the incident rises to the standard outlined in state law prior to contacting law enforcement."
Gov. Glenn Youngkin (R.) has since signed bills into law that partially roll back the Democrats' school safety bills, and the Trump administration rescinded Obama's changes to school discipline. But under President Joe Biden, the Education Department is trying to bring these policies back.
As part of the president's "equity" agenda, Education Secretary Miguel Cardona in July 2022 sent a letter that threatened to launch further civil rights investigations if school districts discriminate in their discipline of black and disabled students.
According to Eden, the Obama-era policies that Biden and Cardona want to resurrect were what enabled Parkland, Fla., school shooter Nikolas Cruz. School officials were aware of the danger Cruz posed years before the shooting. He threatened his classmates and was suspended once for an assault while attending Marjory Stoneman Douglas High School. Police were not notified of the assault, and more minor incidents were often not reported.
Former Broward County Schools superintendent Robert Runcie was indicted in 2021 for lying to a grand jury about details surrounding the Parkland shooting and is now being investigated over whether his district underreported incidents of student misbehavior. A close ally of former secretary of education Arne Duncan, Runcie helped shape the Obama-era school discipline rules.
Newport News superintendent George Parker does not seem poised to reevaluate his disciplinary philosophy in light of the shooting. In a letter posted a little more than a week after the incident, Parker boasted that disciplinary infractions were down across the district in the 2021-22 school year. He highlighted "a 3.6 percent reduction in the referral rate for Black or African-American students and a 1.3 percent reduction for students with a disability."
A spokeswoman for Newport News Public Schools did not respond to a request for comment.
A review of the Richneck principal's social media presence shows that she too supported the movement to decrease racial disciplinary disparities. Newton, who has since been relieved of duty but not fired, retweeted a post on the importance of being "antiracist educators" and spoke about how "systemic racism" affects "our society at every level."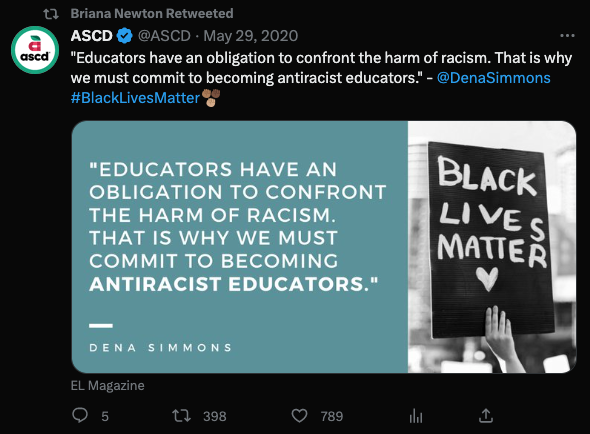 Not everyone shares these educators' affinity for equity. At a school board meeting weeks after the shooting, a teacher at an elementary school just minutes from Richneck blamed the district's focus on accreditation and funding over safety for enabling the violence.
"Ask any teacher in this school division why discipline incidents declined. Infraction numbers are down because incidents aren't always officially reported," she said. "It was just a matter of time before something like this happened."
The post How the Left's 'Equity' Obsession Enabled a Virginia School Shooting appeared first on Washington Free Beacon.