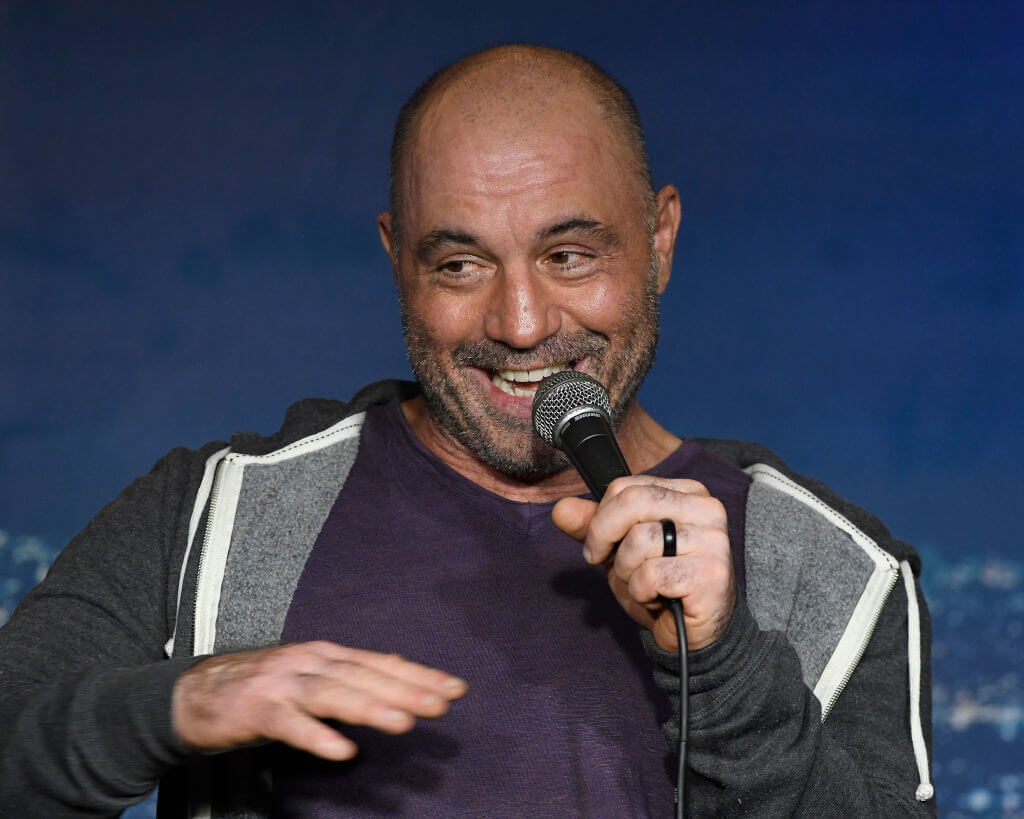 Podcast host Joe Rogan once more spread racist stereotypes on a recent episode of his massively popular show, The Joe Rogan Experience. 
During an episode released on Feb. 4, Rogan was talking with guests Krystal Ball and Saagar Enjeti about their dislike for elected Democrats such as Nancy Pelosi and Adam Schiff. The conversation pivoted towards U.S. Rep. Ilhan Omar, D-Minn., who was accused of antisemitism in 2019 after tweeting "It's all about the Benjamins" in reference to why American politicians defend Israel. 
Omar later apologized for the tweet. Last week, House Republicans voted to remove her from the Foreign Affairs Committee, citing her alleged antisemitism. 
Rogan told his hosts he doesn't believe Omar should have apologized. 
"That's not an antisemitic statement, I don't think that is," he said. "The idea that Jewish people aren't into money is ridiculous. That's like saying Italians aren't into pizza. That's f–king stupid."
Ball agreed, saying Omar should have phrased her statement a different way: "So people would have less of a freakout, but can you not talk about the influence of money in D.C.?"
"There's a very obvious reason why for my entire life there's been a uniparty consensus around our policy vis-a-vis the Israeli government," she added, saying money is behind the support for Israel "just like every other f–king interest in D.C."
Rogan has a long history of antisemitic and bigoted remarks and content. In January, he called Jewish philanthropist and Holocaust survivor George Soros as evil as a Batman villain. Soros has become a target of the right, often portraying him in stereotypically a Jewish manner and using anti-Jewish dog whistles.
In October, the Simon Wiesenthal Center released a statement criticizing Rogan for having Pink Floyd bassist Roger Waters on his program to discuss the Israel-Palestine conflict. Waters has made repeated remarks about a "Jewish lobby" in the United States. On Monday, English writer Polly Samson accused Waters of being an antisemite, a sentiment that was seconded by her husband: Waters' former bandmate David Gilmour. 
Last year, Rogan apologized after a video compiling all the times he used the N-word on his show went viral. 
The podcaster was also frequently criticized for spreading misinformation about the COVID-19 pandemic and vaccines on his show. He was a promoter of the idea that ivermectin, a drug frequently used to deworm horses, was a viable treatment against the disease. Rogan's deal to make his podcast exclusive to Spotify was signed in 2020 for a reported $200 million. The company does not release streaming numbers for podcasts.
The post Joe Rogan says 'The idea that Jewish people aren't into money is ridiculous' appeared first on The Forward.