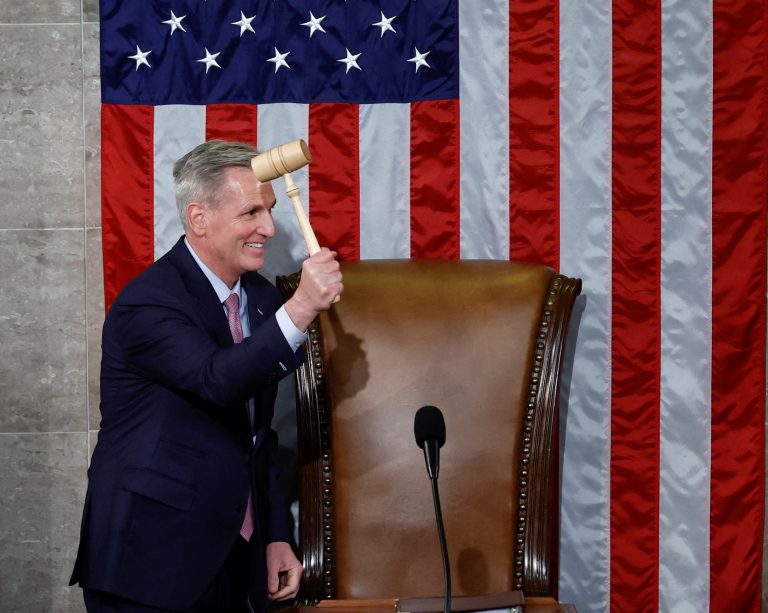 House Speaker Kevin McCarthy (R., Calif.) confirmed on Monday that he had stripped three high-profile Democrats of their committee assignments.
California congressmen Adam Schiff and Eric Swalwell will lose their places on the House Intelligence Committee, while anti-Semitic Rep. Ilhan Omar (Minn.) will be off the House Foreign Affairs Committee, according to Associated Press reporter Farnoush Amiri.
With the demotions, McCarthy is honoring a promise he made in November.
"Eric Swalwell cannot get a security clearance in the public sector," McCarthy told Fox News's Maria Bartiromo at the time. "Why would we ever give him a security clearance and the secrets to America? So, I will not allow him to be on Intel."
Schiff, meanwhile, "lied to the American public time and again," McCarthy said, while Omar has made "anti-Semitic comments."
Swalwell, known for farting on live television, had a long relationship with a Chinese spy named "Fang Fang," whom he allowed to place "at least one intern" in his congressional office. Schiff repeatedly lied about having proof of the debunked conspiracy theory that Russia aided Donald Trump's 2016 presidential campaign. Omar has repeatedly embraced anti-Semitism, comparing Israel to terrorists and saying that American support for the Jewish state is "all about the Benjamins."
Omar on Sunday blasted McCarthy's plan to demote her as an attack on "the first African" on the Foreign Affairs Committee's Africa subcommittee. She has long attempted to deflect any criticism of her as Islamophobic and racist.
The post Kevin McCarthy Demotes Schiff, Swalwell, and Omar appeared first on Washington Free Beacon.