This is a developing story that may be updated as more information becomes available.
An arrest has been made in the recent Molotov cocktail throwing incident at a synagogue in Bloomfield, New Jersey.
An FBI spokesperson identified the suspect as Nicholas Malindretos, a 25-year-old from Clifton, according to NBC New York. He is expected to face federal arson-related charges. NBC reported that he was tracked partly through video of his Volkswagen going to and from the synagogue.
In a Facebook post Wednesday afternoon, Bloomfield Mayor Michael Venezia wrote the suspect was in the custody of the FBI and the Bloomfield Police Department. He did not identify the suspect, but said more information was forthcoming.
Temple Ner Tamid president Josh Katz confirmed the arrest in an email to congregants Wednesday and in a subsequent interview with the Forward.
"I'm still very angry," Katz said. "But I'm also very, very grateful."
The Bloomfield Police Department did not immediately respond to a request for comment.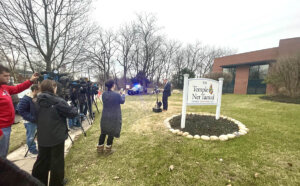 A press conference was held Jan. 29, 2023, outside Temple Ner Tamid In Bloomfield, New Jersey. Photo by Jodi Rudoren
Video surveillance showed a person wearing a ski mask and black hoodie light a bottle and throw it at the door of the Reform synagogue at about 3 a.m. Sunday, hours before Hebrew school at Ner Tamid was set to begin. The bottle broke, but did not cause any damage and no one was hurt.
The incident prompted a visit to the synagogue Tuesday from New Jersey Governor Phil Murphy, who called the incident "absolutely despicable."
Katz told the Forward that it was the first antisemitic incident at Ner Tamid, which has about 540 member families, that he could remember in his decade in the synagogue's leadership.
"My initial reaction was almost disbelief — but not," he said. "We all know this has been happening in many places, so there's that dichotomy of feeling like I can't believe this happened, but knowing that this is the reality we live in."
The post Arrest made in Molotov cocktail incident at New Jersey synagogue appeared first on The Forward.