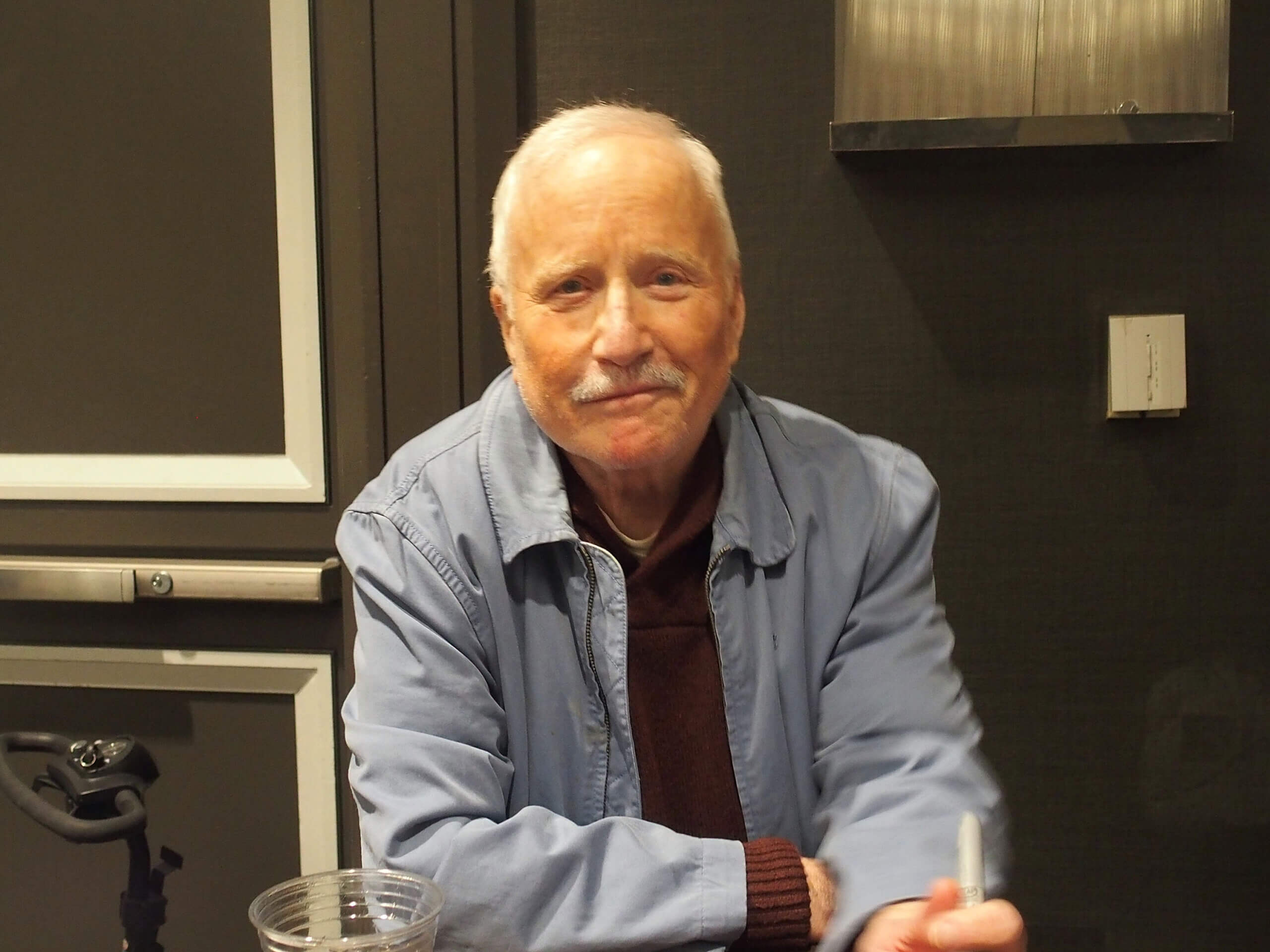 Richard Dreyfuss has to brush up his Shakespeare.
In a recent interview for PBS' Firing Line With Margaret Hoover, the Jaws and Mr. Holland's Opus star blasted Oscar diversity requirements, and, in making a case for not constraining actors to their own ethnicity, picked Laurence Olivier's 1965 performance in Othello as an example of race-blind casting done right.
"He played a Black man brilliantly," Dreyfuss said, of an infamous turn that saw Sir Laurence painted in  dark black — almost blue in Technicolor — and affecting an unplaceable exotic accent during the height of the civil rights era. "Am I being told that I will never have a chance to play a Black man? Is someone else being told that if they're not Jewish, they shouldn't play The Merchant of Venice? Are we crazy?"
I can't believe I'm engaging with this, but these two things simply aren't the same. Blackface has a long, painful history that white Jews like Al Jolson benefited from. (When Hoover asked Dreyfuss about the distinction between questions of representation in casting and the history of anti-Black racism and blackface, the actor said "there shouldn't be" a difference because it's "patronizing.")
What's more, an actor can be Black and Jewish, but you can't be completely white while also being Black. Intersectionality is complex, but I think we can all agree that Olivier was at an intersection of white and very white.
Dreyfuss' outrage seems a bit overstated, at least with regard to the Bard. Just last year Black actor John Douglas Thompson played Shylock in The Merchant of Venice at the Polonsky Shakespeare Center to no notable outrage. (Al Pacino, an Italian but not a Jew, played him both on Broadway and on screen.)  
As for the Moor of Venice, until relatively recently, a non-blackface Otello was newsworthy in the opera world and certain conceptual productions of Shakespeare's play have flipped the races, notably a 1997 Othello starring Patrick Stewart in the title role. 
But in the realm of film, where Dreyfuss made his name and now has an apparent axe to grind with the Academy, Jews have indeed had the chance to portray Othello — just not white ones. In 1980, Yaphet Kotto became the first Black man (and first Jew) to play Othello in a feature film in Liz White's film, which boasted an all-Black cast and crew. 
Dreyfuss' mistake, then, is that of Shakespeare's myopic Moor: rigid thinking of the sort he's levying at casting directors — that, and, perhaps, a bit of the green-eyed monster. 
It's notable that Dreyfuss, who has devoted the past years, and much of the interview, to promoting civics, would be so uncivil in his remarks. Perhaps he just wants to play Shakespeare again — if his turn as Richard III in The Goodbye Girl is any indication, that's to be avoided at all costs. 
But, if Dreyfuss wants to reprise his role as Iago (the better part, and one he played in 1979 opposite Raul Julia), I'm sure he could still find an audience.
The post Yes, Richard Dreyfuss, a Jewish actor can play Othello — just not you appeared first on The Forward.