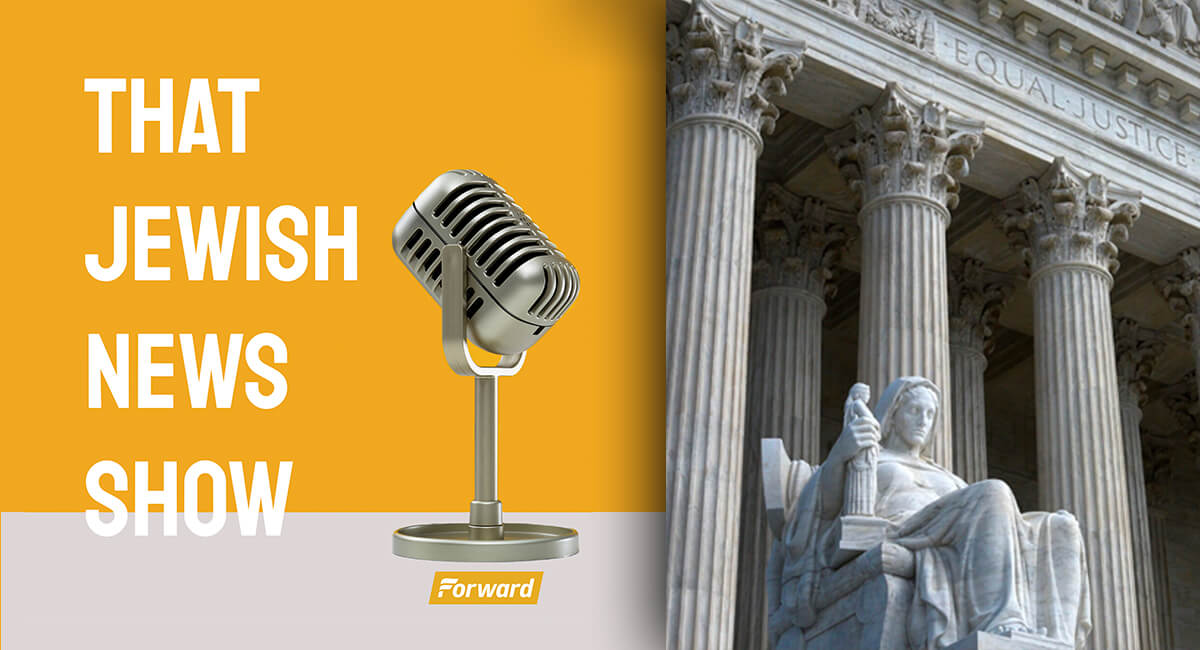 "Talking the Supreme Court's blockbuster church-state case with law professor Michael A. Helfand"

May 11, 2023
On the May 11, 2023 episode of That Jewish News Show, Laura E. Adkins and Benyamin Cohen of the Forward discuss the indictment of George Santos, the death of 25 year-old Herschel Siegel, and a Supreme Court case that could make it easier for Jewish Americans — and other Sabbath-observers — to receive religious accommodations from their employers. They were joined by Michael A. Helfand, an expert in religious law and liberty, to discuss Groff v. DeJoy. 
Listen on Apple Podcasts:


We want to hear from you! Leave a review below and email editorial@forward.com with your questions and comments.
That Jewish News Show is hosted and produced by Laura E. Adkins and Benyamin Cohen of the Forward. Additional help this week came from Tani Levitt and Jake Wasserman. Our theme music is by The Fly Guy Five.
Listen on Spotify:
To ensure you never miss an episode, follow That Jewish News Show on

Apple Podcasts

Spotify
And follow the Forward on

Facebook

Twitter

Instagram
Referenced articles, books and music
George Santos' Indictment:
"The Fabulist: The Lying, Hustling, Grifting, Stealing, and Very American Legend of George Santos" by Mark Chiusano
"'He needs to go': Long Island Jews react to George Santos' indictment" by Jacob Kornbluh in the Forward
The Death of Herschel Siegel: 
"A young gay Orthodox man died by suicide. We must confront how Jewish teachings harmed him" by Mordechai Levovitz in the Forward
Letter: "Herschel Siegel was embraced by our Atlanta Orthodox community" by Jennifer Marks in the Forward
Letter: "I knew Herschel Siegel for his entire life. Don't exploit his death for an agenda" by David Schoen in the Forward
"Yeshiva University is left in mourning after a beloved gay alum dies by suicide" by Jacob Henry in the New York Jewish Week
"My friend Herschel Siegel died by suicide. Politicizing his death doesn't help gay Jews" by Simon Italiaander in the Forward
"NY appeals court agrees Yeshiva University must recognize LGBTQ club" by Louis Keene in the Forward
Interview with Michael Helfand on Groff v. DeJoy:
"A new case before the Supreme Court could make Shabbat observance easier" by Michael A. Helfand in the Forward
"Must your employer accommodate your Shabbat observance? That's up to the Supreme Court" by Michael A. Helfand in the Forward
AFL-CIO amicus brief in Groff v. DeJoy
"I'm glad Coach Kennedy can pray at the 50-yard line" by Laura E. Adkins in the Forward
Host Recommendations: 
Laura: The Metropolitan Museum of Art's exhibit, "Karl Lagerfeld: A Line of Beauty," and the sneak peek in Vogue. 
Benyamin: A new song, "The World to Come," by Zusha
Get the Forward every day in your inbox! Subscribe to our newsletters.
That Jewish News Show is a thoughtful look at the week in Jewish news from journalists at the Forward, which has been driving the American Jewish conversation since 1897. In each episode, hosts Laura E. Adkins, the opinion editor, and Benyamin Cohen, the news director, bring you beyond the headlines and interview the newsmakers behind those stories.
The post That Jewish News Show: George Santos, a tragic suicide, and how SCOTUS could ease Shabbat observance appeared first on The Forward.