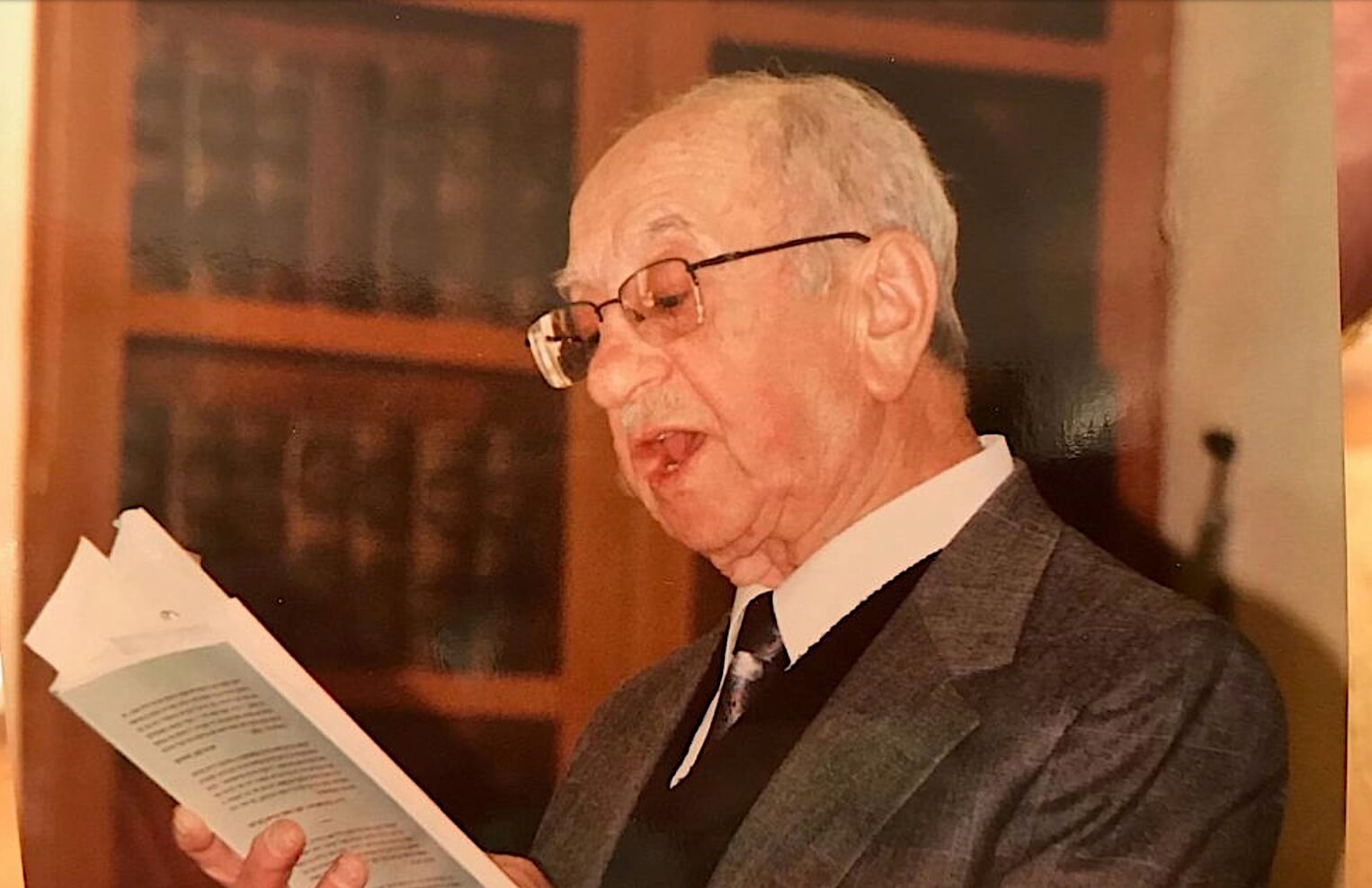 מרדכי דוניץ (1922־2019) איז געווען אַ לאַנגיאָריקער ירושלימער קאָרעספּאָנדענט בײַם פֿאָרווערטס און אַ ייִדישער קולטור־טוער. ער איז געבױרן געוואָרן אינעם װײַסרוסישן שטעטל זשעטל, פֿון וואַנען סע זײַנען אַרויס עטלעכע וויכטיקע פּערזענלעכקייטן, צווישן זיי — דער חפֿץ־חיים. דוניץ האָט פֿאַרענדיקט די תּרבות־שול און די גימנאַזיע. צו לייענען מער וועגן זײַן לעבן, לייענט דעם אַרטיקל פֿון יאָר 2012, אָנגעשריבן פֿון פּעסיע פּאָרטנוי לכּבֿוד זײַן 90סטן געבױרנטאָג.
איך דערמאָן זיך, ווען אין די קינדער־יאָרן האָבן מיר מיט אומגעדולד אַרויסגעקוקט אויף דעם טאָג פֿון חמישה־עשׂר בשבֿט אין שטעטל.
דאָס פֿײַערן ט״ו בשבֿט אין מיטן פֿון דעם קאַלטן, פֿראָסטיקן ווינטער האָט אין אונדזערע הערצער אַרײַנגעבראַכט אַ ליבלעכע וואַרעמקייט. אין אונדזערע קינדערשע געדאַנקען האָבן מיר זיך אַריבערגעטראָגן אַהין, אין דעם ווײַטן, אויסגעחלומטן לאַנד, וווּ עס בליִען שוין אין דעם פֿרילינג פֿון ארץ־ישׂראל די פֿײַגנביימער, די אַקאַציע־ביימער און די באָקסער־ביימער.
אונדזערע לערער האָבן באַהויכט מיט זייערע שילדערונגען אין אונדזערע קינדערשע פֿאַנטאַזיעס די נאַטור פֿון ארץ־ישׂראל. מיר האָבן האַרציק געזונגען דאָס באַקאַנטע ישׂראל־ליד מיט די ווערטער: "השקדייה פּורחת ושמש פּז זורחת, ט״ו בשבֿט הגיע, חג לאילנות" (די מאַנדלען בליִען און די גאָלדענע זון שײַנט, חנישה־עשׂר בשלֹט איז געקומען, דער יום־טובֿ פֿון די ביימער). אַרויסקוקנדיק דורך די שויבן פֿון די פֿענצטער פֿון קלאַסצימער האָבן מיר געזען אין דרויסן דעם אויסגעשפּרייטן ווײַסן שניי, פֿון אונדזער קאַלטן ווינטער אין אונדזערע געגנטן.
לכּבֿוד דעם יום־טובֿ חמישה־עשׂר, פֿלעגט מײַן מאַמע ע״ה אײַנקויפֿן אַ ביסל פּרות, וואָס מען האָט אָנגערופֿן "ישׂראל־פּרות", כאָטש באמת זענען זיי געוואַקסן אין די וואַרעמע דרום־לענדער, בשכנות פֿון ארץ־ישׂראל, אין טערקײַ… מיר האָבן זיך פּאָסמאַקעוועט מיט אַ פֿײַג, מיט אַ שטיקל האַרטן באָקסער און מיט עטלעכע ראָזשינקעס מיט מאַנדלען.
די באָבע ע״ה האָט מיט אירע שוואַכע ציין אין מויל ניט געקענט אײַנבײַסן דאָס האַרטע שטיקל באָקסער, פֿלעגט זי עס אײַנטונקען אין הייסן וואַסער, און נאָכן מאַכן מיט דבֿקות, מיט פֿאַרמאַכטע אויגן, די ברכה "שהחיינו" פֿלעגט זי עס אַראָפּשלינגען און מיר אַלע האָבן געזאָגט: "אָמן!"
מײַן זיידע שלמה־זלמן ע״ה, האָט אויסגעלעבט זײַנע לעצטע יאָרן עלנט אין אַ מושבֿ־זקנים אין ירושלים, אין אָנהייב פֿון די דרײַסיקער יאָרן פֿון דעם פֿאַרגאַנגענעם יאָרהונדערט. ער האָט ניט געוואָלט שטאַרבן אין גלות. אין די טעג פֿון די פֿײַערונגען פֿון ט״ו בשבֿט, פֿלעגט ער גיין צו פֿוס אין די דערבײַיִקע דערפֿער און מושבֿים נאָענט פֿון ירושלים, כּדי אָנצוקוקן און זיך דערקוויקן צו זען ווי די קינדער און זייערע עלטערן, ווי די חלוצים פֿלעגן פֿלאַנצן אין דעם ארץ־ישׂראל־באָדן די קליינע ביימעלעך.
בײַ אים איז עס געווען אַ קוואַל פֿון נחת און פֿרייד. ער האָט געזען אין דעם אַן אַקט פֿון גאולת־האָרץ און די דערנענטערונג פֿון ביאת־המשיח. ער איז אין דער היים געווען אַ פֿאַרברענטער ציוניסט, איינער פֿון די ערשטע מיטגלידער פֿון דער רעליגיעז־ציוניסטישער באַוועגונג חובֿבֿי־ציון, אַ נאָענטער פֿרײַנד פֿון הרבֿ שמואל מאָהילעווער, דעם גרינדער פֿון דער באַוועגונג אין רוסלאַנד.
The post Tu B'Shvat in the old country appeared first on The Forward.