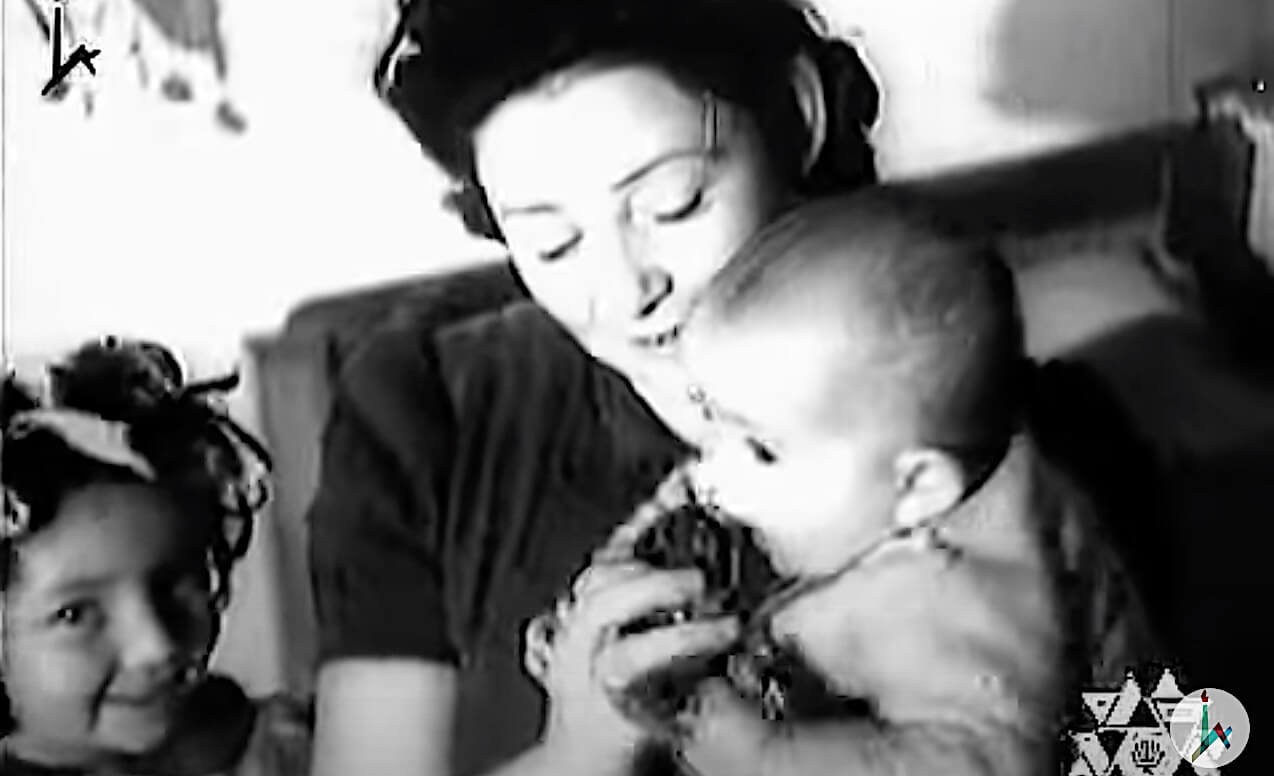 אַ דאָקומענטאַר וואָס געפֿינט זיך איצט אינעם ייִדישן פֿילמאַרכיוו אויפֿן נאָמען פֿון סטיווען ספּילבערג שילדערט, דורך נאַראַציע און ווידעאָ־אָפּשניטן, ווי די ייִדן האָבן געלעבט און געהאָלפֿן אויפֿבויען וואַרשע אין די ערשטע יאָרן נאָך דער צווייטער וועלט־מלחמה.
דער שעה־לאַנגער פֿילם, "מיר לעבן־געבליבענע",וואָס איז פּראָדוצירט געוואָרן דורך שאול גאָסקינד און נתן גראָס, ווערט נאַרירט אין גאַנצן אויף ייִדיש, מיט דער מיט־באַטייליקונג פֿון דער אַקטריסע אידאַ קאַמינסקאַ און דעם כאָרעאָגראַף און טענצער פֿעליקס פֿיביך.
דער פֿילם נעמט אַרײַן ווידעאָ־אָפּשניטן וואָס ווײַזן,למשל, ווי אַ גרופּע ייִדן נעמען אַרויס פֿון אונטער דער ערד די שטויביקע קעסטלעך פֿונעם "עונג־שבת אַרכיוו" וואָס עמנואל רינגלבלום האָט געהאַט באַגראָבן בשעת דער מלחמה. מע זעט ווי אַרבעטער בויען איבער די געבײַדע פֿונעם "צענטראַל־קאָמיטעט פֿון די פּוילישע ייִדן אין וואַרשע" וואָס וועט אין גיכן ווערן דער מיטלפּונקט פֿון אַלע אינטערעסן פֿון די ייִדן אין לאַנד.
מע זעט אויך די פּנימער פֿון די ייִדישע כּלל־טוער אויף דער ערשטער זיצונג פֿונעם צענטראַל־קאָמיטעט, ווי זיי הערן אַ באַריכט וועגן דער סאָציאַלער הילף וואָס מע האָט שוין אָנגעהויבן אָרגאַניזירן לטובֿת די "צוריקגעקערטע פֿון די לאַגערן און שפּעטער פֿאַר די רעפּעריאַנטן". מע ווײַזט אויך אינטימע סצענעס פֿון ייִדן וואָס טרעפֿן זיך אינעם נײַעם רעפּעריאַנטן־הויז: מאַמעס וואָס שפּילן זיך מיט זייערע עופֿעלעך און מיידעלעך וואָס שמייכלען שעמעוודיק צום ווידעאָגראַף.
דער פֿילם גיט נישט נאָר אַ פּרעכטיק בילד פֿון די ייִדן אין פּוילן במשך פֿונעם ערשטן יאָר פֿון דער באַפֿרײַונג, אָבער איז אויך איינער פֿון די זעלטענע דאָקומענטאַר־פֿילמען וואָס ווערן נאַרירט אין גאַנצן אויף ייִדיש, און איז דערפֿאַר אַ גוטער מיטל ווי ייִדיש־סטודענטן קענען הערן אַ נאַטירלעכן ייִדיש במשך פֿון אַ גאַנצער שעה.
The post VIDEO: An excellent Yiddish documentary about Jews in Poland the first year after the Holocaust appeared first on The Forward.